Born in a small village south of Vienna and married with two grown-up sons, I now live near the Lake of Geneva.

Painting? Yes, it's been a passion since childhood when I tried to capture in drawing and water-colour all that inspired me. More recently, I began painting on silk, a medium which is particularly suitable for subjects like the flowers, butterflies, insects and birds which are very plentiful in my garden. And sometimes a photo helps me to explore their fine structures. Children's books also interest me. When I wrote and illustrated "Nina the Wild Duck", (published by Pro Juventute), what fascinated me was the creative challenge. Combining a story with illustrations chosen not only to emphasize the theme but also to appeal to a child's imagination was an experience I shall certainly repeat.

Meanwhile, however, painting on silk is my first priority; it still has many secrets for me to discover!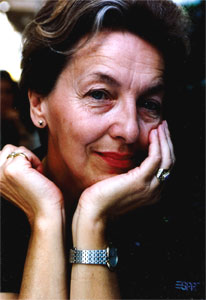 Waltraud Macpherson